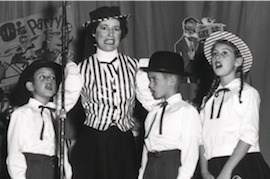 Janet Johnston joined Sweet Adelines in 1955, and was the baritone in the 1957 Regional Championship Quartet Miss Chiefs. She joined St. Louis Harmony Chorus shortly after its charter in 1961 and served as president, assistant director to founder Betty Oliver, and choreographer. A great singer and administrator, she is also the mother of Sandi Wright, director of St. Louis Vocal Project Chorus. Janet believed that the future of barbershop singing lay in attracting young members, and she was instrumental in getting the SAI minimum age requirement eliminated. Janet retired from St. Louis Harmony in 1982 and passed away in 2004. This scholarship is set up in her memory to encourage young women to join St. Louis Vocal Project despite financial issues.

The Scholarship is intended to offset all or part of the Harmony Inc. registration fee and St. Louis Vocal Project monthly dues for members who are 25 years old or younger. The recipient is expected to have:
• 75% rehearsal attendance rate
• 100% performance attendance rate
• hold service on at least one committee within the chorus
The Scholarship may be awarded at any time. Once awarded, the scholarship may be renewed by resubmitting the application form annually before March 1, as the fiscal year begins on April 1.

To apply for the Scholarship, print out and fill in the attached form and give it to the St. Louis Vocal Project Director, President, or Treasurer. If you have any questions about the Scholarship, ask the Treasurer.